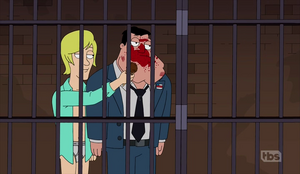 Stan meets "Suck boy" Tony in jail while following Roger's advice to enjoy life after he loses his religion in "Daesong Heavy Industries".
As Stan sinks into depravity, he is confronted by Francine who is frightened by Stan's change. He demands to know what can fill the void in him without religion and Tony suggests meditation, which is rejected by Stan who notes that there are better uses for Tony's mouth. After Francine demands Steve find a way to restore Stan's faith, he finds Tony's picture at a website specializing in gay conversions, noting that they have their work cut out on him.
He is also listed as a possible owner of the mineral rights under the Smith property in "Mine Struggle".
Tony is voiced by Max Burkholder.