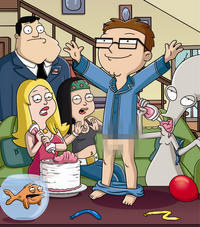 This is the first American Dad! episode to be nominated for an Emmy.[1]
This episode replaced the newspaper gag by having Roger wear a different disguise in the opening.
Roger says that turning 1600 is a big deal on his planet. Presumably, he is turning 1600 in his planet's years, as opposed to Earth years; it has not been established how old he is in Earth years.
"If You Were Here" by The Thompson Twins is played at Roger's birthday party with Klaus.
The censored area over Steve's waist is expanded to cover the entire hip area in the promo image.
Hayley is grossed out by Steve's red pubic hair. Stan and Steve previously identified Steve's hair color as ginger, a shade of red, in "Widowmaker".
Among the problems Hayley had going through puberty includes: disliking wearing tampons, the size of her breasts and her first pimple.
Ad blocker interference detected!
Wikia is a free-to-use site that makes money from advertising. We have a modified experience for viewers using ad blockers

Wikia is not accessible if you've made further modifications. Remove the custom ad blocker rule(s) and the page will load as expected.