42-Year-Old Virgin
Stan is a killing virgin.

Season: 4 Episode: 6
Total Episode Count: 48
Prod. no.: 3AJN05
First Aired: November 18, 2007

Featuring: Stan Smith, Roger
Also Appearing: Hayley, Klaus, Francine, Steve, Barry, Toshi, Snot, Avery Bullock, Jameson LaCroix, Mike Barker, Dennis, Bad Larry, Ray, Gladys, James, Mark, Randy, Rutger Hauer
Musical Numbers: Another One Bites the Dust

Director: Pam Cooke

Assistant Director
:
Jansen Yee
Writers
:
Nahnatchka Khan
Storyboarders
:
Patrick Kochakji
,
Paul Lee
Newspaper Headline
: Son Regrets Teaching Dad How to Text Message
Plot
: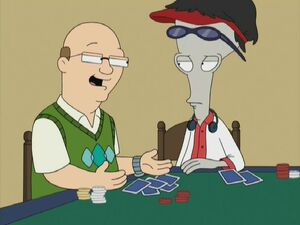 At a poker game with Ray and Bad Larry, two CIA buddies, Stan reveals that he has never actually killed anyone and is therefore a "killing virgin." So Roger and the guys set out to help Stan land his first hit. Stan passes on several candidates including Randy, a pedophile that announces he just moved into the neighborhood.
Meanwhile, Steve and his friends are befriended by Randy who has immediately sought to resume his old ways by kidnapping Steve and his friends. When Stan and his friends find out Steve has been taken by pedophile Randy to his secret hideout behind the waterfall at Wet, Young & Wild water park, they rush in to save the boys. When Randy brags that he'll get off due to his mother's money and a good lawyer, Stan tries to shoot Randy and ends up killing Bad Larry getting his very first kill.

Ad blocker interference detected!
Wikia is a free-to-use site that makes money from advertising. We have a modified experience for viewers using ad blockers

Wikia is not accessible if you've made further modifications. Remove the custom ad blocker rule(s) and the page will load as expected.