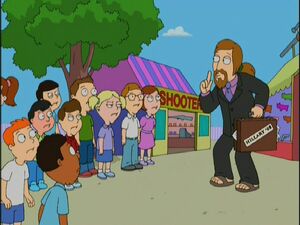 A.C.L. Lou is portrayed as the arch-enemy of Bobby the Bullet, the mascot of NGA Land, a theme park owned by the National Gun Association. As part of the park's entertainment, he encourages kids to take on A.C.L. Lou, a parody of the American Civil Liberties Union (ACLU) in "Stannie Get Your Gun", the kids shooting him with toy guns.
The ACLU is an organization which focuses on legislative lobbying. The ACLU's stated mission is "to defend and preserve the individual rights and liberties guaranteed to every person in this country by the Constitution and laws of the United States." It frequently champions Liberal causes although the ACLU has been critical of elected officials and policies of both Democrats and Republicans.
Lou is voiced by John Carroll Lynch.
Ad blocker interference detected!
Wikia is a free-to-use site that makes money from advertising. We have a modified experience for viewers using ad blockers

Wikia is not accessible if you've made further modifications. Remove the custom ad blocker rule(s) and the page will load as expected.