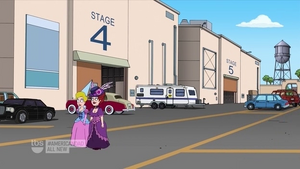 Klaus does not appear in this episode.
The princess from "Familyland" can be seen walking outside of the set of Marble Trouble.
The end title music is "Where or When", sung by Lena Horne in 1948, originally from the 1937 Rodgers and Hart musical Babes In Arms. In 1938, a film with that title, starring Mickey Rooney and Judy Garland was released which included the song.
A113 appears on the directors' clapboard for Marble Trouble.
For a while, Stan believed that all cars turned into Transformers, but now believes only the Nissans do.
WLNF, FM 102.2's station number does not reflect an actual radio station in the US as the digital broadcast signals used always result in an odd-numbered final digit. The real WLNF call sign is assigned to 90.5 Rapids, New York.
In the press release, Leonard Zane's name is stated to be Leonard Prince.[1]
Ad blocker interference detected!
Wikia is a free-to-use site that makes money from advertising. We have a modified experience for viewers using ad blockers

Wikia is not accessible if you've made further modifications. Remove the custom ad blocker rule(s) and the page will load as expected.