Superintendent: It's come to my attention that you've been letting one of your students skip classes, miss tests and hang out in the teacher's lounge. I'm sorry Brian this is bad. I hate to say it but..
Roger: You're fired!
Principal Lewis: Is that what you intended to say superintendent?
Superintendent: That's what I super-intended to say.
Roger: Yay!
---
Stan: This guy's the asshole of the fucking year!
---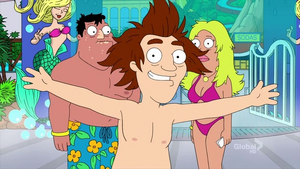 Dan: She's THE BIGGEST BITCH IN THE UNIVERSE!!!!
---
Principal Lewis: Suicide bitch! Canyon style!