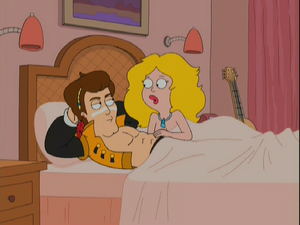 Adam Ant (born Stuart Leslie Goddard) is an English musician, who gained popularity as the lead singer of New Wave/post-punk group Adam and the Ants and later as a solo artist, scoring ten UK top ten hits between 1979 and 1983, including three No. 1s. Goddard was also a star in America where he not only scored a string of hit singles and albums, but was once voted sexiest man in America by the viewers of MTV. He is also an actor, having appeared in two dozen films or television episodes between 1985 and 1999.
Adam is one of the star musicians of the 1980s that Francine slept with in an attempt to start her own business in "Finances With Wolves".
Ad blocker interference detected!
Wikia is a free-to-use site that makes money from advertising. We have a modified experience for viewers using ad blockers

Wikia is not accessible if you've made further modifications. Remove the custom ad blocker rule(s) and the page will load as expected.