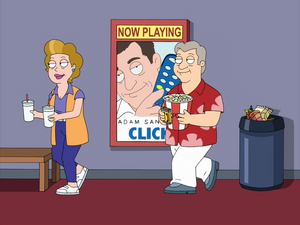 Adam Richard Sandler (born September 9, 1966), is an American actor, comedian, screenwriter, entrepreneur, film producer and musician. After getting his big break on Saturday Night Live, Sandler went on to star in many Hollywood feature films including Billy Madison, Happy Gilmore, The Wedding Singer, The Waterboy, Big Daddy, Mr. Deeds and Hotel Transylvania.
Sandler appears on a movie poster for Click on Betty Smith's date with Jerry in "Oedipal Panties". Stan reaches through the poster to kidnap Jerry to keep his mother for himself.
Ad blocker interference detected!
Wikia is a free-to-use site that makes money from advertising. We have a modified experience for viewers using ad blockers

Wikia is not accessible if you've made further modifications. Remove the custom ad blocker rule(s) and the page will load as expected.