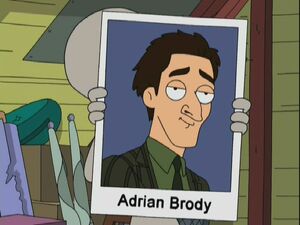 Adrien Brody is an American actor. He received widespread recognition and subsequent acclaim after starring in Roman Polanski's The Pianist. He is notable as the youngest actor ever to receive an Academy Award for Best Actor and the only American actor ever to win a César Award.
Adrien Brody's is one of the celebrity noses that Roger tries out in "Four Little Words".
Adrien also appears with Halle Berry as celebrities that adopt babies in "Tearjerker".
Ad blocker interference detected!
Wikia is a free-to-use site that makes money from advertising. We have a modified experience for viewers using ad blockers

Wikia is not accessible if you've made further modifications. Remove the custom ad blocker rule(s) and the page will load as expected.