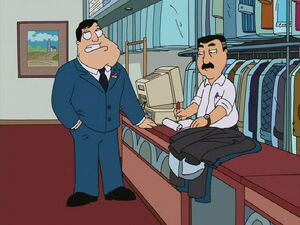 While picking up Bullock's dry cleaning in "Bullocks To Stan", Stan mumbles an incorrect version of Toto's Africa.
Instrumentals of the song briefly play in "Camp Refoogee", the first time when Steve first meets Makeva and again when Stan and Steve look over the photo of the assembled campers at the end of the episode.
Episode Lyrics
I crashed the planes down in Africa...
That's Bullock, two L's
La la la la la la la la la, more will I do...
Ad blocker interference detected!
Wikia is a free-to-use site that makes money from advertising. We have a modified experience for viewers using ad blockers

Wikia is not accessible if you've made further modifications. Remove the custom ad blocker rule(s) and the page will load as expected.