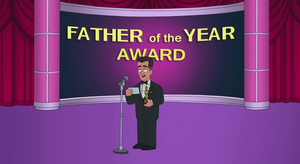 Alan Willis Jeffery (May 1st, 1947 - December 13, 2016), better known as Alan Thicke, was a Canadian actor, comedian, songwriter and game show host.
Thicke appears as himself in "Permanent Record Wrecker" when Stan accepts a "Father of the Year" award. As Alan hosts the show, the stage opens to reveal his wife Tanya Callau trying to park the car.
Ad blocker interference detected!
Wikia is a free-to-use site that makes money from advertising. We have a modified experience for viewers using ad blockers

Wikia is not accessible if you've made further modifications. Remove the custom ad blocker rule(s) and the page will load as expected.