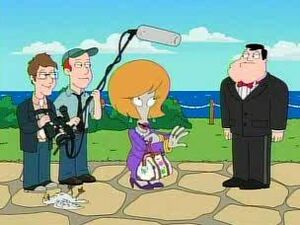 Alex & Ron are the two sons of Roger's persona of "Jeanie Gold'" in "Shallow Vows", a wedding planner. Roger mentions that they are in Columbia Film School, and thus are the camera and sound men for Stan and Francine's wedding vow renewals.
Ad blocker interference detected!
Wikia is a free-to-use site that makes money from advertising. We have a modified experience for viewers using ad blockers

Wikia is not accessible if you've made further modifications. Remove the custom ad blocker rule(s) and the page will load as expected.