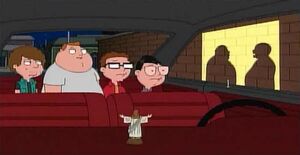 Sir Alfred Joseph Hitchcock, KBE (13 August 1899 – 29 April 1980) was an English filmmaker and producer. He pioneered many techniques in the suspense and psychological thriller genres. After a successful career in his native United Kingdom in both silent films and early talkies, Hitchcock moved to Hollywood. In 1956 he became an American citizen while remaining a British subject. Through his cameo appearances in his own films, interviews, film trailers, and the television program Alfred Hitchcock Presents, he became a cultural icon.
In "Home Wrecker", when Principal Lewis leaves the boys in that car outside of a strip club after a successful night of blackjack, he is greeted at the door by Hitchcock's very recognizable rotund silhouette, as seen in the opening of Alfred Hitchcock Presents who informs him that there is good tail that night.
Ad blocker interference detected!
Wikia is a free-to-use site that makes money from advertising. We have a modified experience for viewers using ad blockers

Wikia is not accessible if you've made further modifications. Remove the custom ad blocker rule(s) and the page will load as expected.