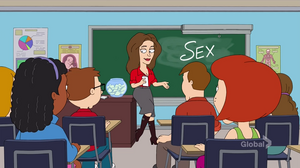 Alison Helene Becker (born March 8, 1977) is an American actress, known for her work in The Other Guys, Four Dead Batteries and New Girl.
Alison provides the voice of the sex-ed teacher in "News Glance With Genevieve Vavance".
Ad blocker interference detected!
Wikia is a free-to-use site that makes money from advertising. We have a modified experience for viewers using ad blockers

Wikia is not accessible if you've made further modifications. Remove the custom ad blocker rule(s) and the page will load as expected.