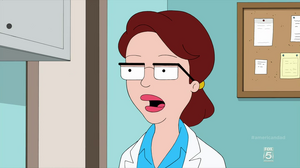 Allison Smith (born December 9, 1969) is an American actress and singer best known as Mallory O'Brien in the NBC drama The West Wing. She also appeared in the title role of Annie in the original Broadway production, in the 1980s sitcom Kate & Allie and in the made for TV movie Lying Eyes.
Allison provides the voice of Trish in "Stan Goes On the Pill".
Ad blocker interference detected!
Wikia is a free-to-use site that makes money from advertising. We have a modified experience for viewers using ad blockers

Wikia is not accessible if you've made further modifications. Remove the custom ad blocker rule(s) and the page will load as expected.