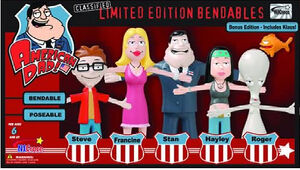 American Dad Bendables Limited Edition Box Set
Description: The limited edition American Dad! bendables figure set includes five normal sized bendables plus a sixth bonus figure. Limited to only 15,000 sets, this cast of characters includes Stan, Francine, Roger, Hayley, Steve, and a bonus Klaus, the fish with the German's brain! Figures 4-5 inches tall. For ages 6 and up.
Released in 2005.
Ad blocker interference detected!
Wikia is a free-to-use site that makes money from advertising. We have a modified experience for viewers using ad blockers

Wikia is not accessible if you've made further modifications. Remove the custom ad blocker rule(s) and the page will load as expected.