Upcoming Episodes
Below is the list of upcoming episodes. All times are Eastern. Watch these then come back to the ADWiki to share your knowledge.
The Bitchin' Race airs July 31st, 2017 at 10:00/9:00C on TBS
The family competes on the reality show, The Bitchin' Race, but after Stan and Hayley ditch the less-motivated Steve and Francine to team up, they end up in a Tunisian labor prison.
Family Plan airs August 7th, 2017 at 10:00/9:00C on TBS
Francine reconnects with her birth family when she starts craving the experience of having a big family; Stan becomes a Picker based on his obsession with American Pickers.
Adult Swim
TBS
Recently Aired Episodes
Below is the list of recently aired episodes. Watch or rewatch them again and help contribute more to the ADWiki episode pages.
The Life and Times of Stan Smith aired July 24th, 2017 at 10:00/9:00C on TBS
Stan becomes addicted to dying after Roger tricks him into thinking he had a heart attack; Klaus takes Steve to Arizona State University for a college visit, where a fraternity hazes him.
Julia Rogerts aired June 12th, 2017 at 10:00/9:00C on TBS
Roger runs off in disguise as a Julia Roberts character to a small town after Stan hurts his feelings; Steve plans a meeting when he finds out that Jeff and Barry have never met.
Fan Boards & Discussion
Active fan boards to discuss American Dad!
Show News
Hulu to carry complete run of American Dad!
July 19, 2017
Hulu has made a deal with FOX television to carry all episodes of American Dad!, as well as other animated shows such as The Cleveland Show, Bob's Burgers, Futurama and more.[1]
New mobile game coming with American Dad!
Monday, June 27, 2016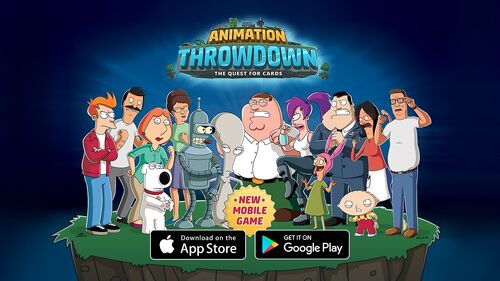 Kongregate & Fox Digital Entertainment have officially announced Animation Throwdown: The Quest for Cards. will be able to combine Roger Smith, Tina Belcher, and the rest of their favorite characters together in the ultimate deck. To see how one of these battles play out just turn your eyes to YouTube, a few testers were generous enough to upload some gameplay video. The game will release in the fall for IOS and Android devices.
American Dad! headed for a fourth TBS season, spearhead of new animation lineup
Wednesday, March 23, 2016
Show creator Matt Weitzman told Variety that the show is under contract for 256 episodes to help TBS launch a new lineup of prime-time animation. This puts the broadcast season count one more than previously announced that should last until 2018.[2]
Ad blocker interference detected!
Wikia is a free-to-use site that makes money from advertising. We have a modified experience for viewers using ad blockers

Wikia is not accessible if you've made further modifications. Remove the custom ad blocker rule(s) and the page will load as expected.