American Dad! Panel at Comic Con
Upcoming Episodes
Below is the list of upcoming episodes. All times are Eastern. Watch these then come back to the ADWiki to share your knowledge.
My Purity Ball and Chain airs April 23rd, 2018 at 10:00/9:00C on TBS
Steve is acting out his sexual energy, so Francine asks Stan to give Steve the talk; Stan is terrified because he's afraid he will do it wrong; the family builds a giant water slide in the backyard.
OreTron Trail airs April 30th, 2018 at 10:00/9:00C on TBS
Roger becomes worried about outliving the family; Klaus opens a convenience store in the attic.
Adult Swim
TBS
Recently Aired Episodes
Below is the list of recently aired episodes. Watch or rewatch them again and help contribute more to the ADWiki episode pages.
Railroaded aired April 16th, 2018 at 10:00/9:00C on TBS
Stan is frustrated with traffic so he goes to the mayor and proposes that the town build a bullet train, but the mayor laughs off the idea; Roger pushes Stan into running for mayor; Stan wins the election but finds himself overwhelmed.
The Never-Ending Stories aired April 9th, 2018 at 10:00/9:00C on TBS
Bullock asks Stan to fill in for him at his class at the CIA Academy and Stan finds that the cadets are the perfect captive audience for his boring stories; Klaus becomes the hype-man for a famous rapper.
Fan Boards & Discussion
Active fan boards to discuss American Dad!
Show News
American Dad! renewed for two more seasons
January 11, 2018
TBS has renewed American Dad! for two more seasons, leading the way for an hour-long animation block with Final Space, a new show about a prisoner in space.[1]
Hulu to carry complete run of American Dad!
July 19, 2017
Hulu has made a deal with FOX television to carry all episodes of American Dad!, as well as other animated shows such as The Cleveland Show, Bob's Burgers, Futurama and more.[2]
New mobile game coming with American Dad!
Monday, June 27, 2016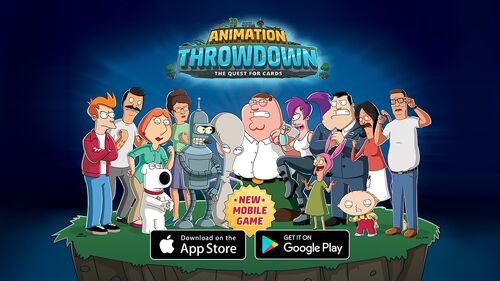 Kongregate & Fox Digital Entertainment have officially announced Animation Throwdown: The Quest for Cards. will be able to combine Roger Smith, Tina Belcher, and the rest of their favorite characters together in the ultimate deck. To see how one of these battles play out just turn your eyes to YouTube, a few testers were generous enough to upload some gameplay video. The game will release in the fall for IOS and Android devices.
American Dad! headed for a fourth TBS season, spearhead of new animation lineup
Wednesday, March 23, 2016
Show creator Matt Weitzman told Variety that the show is under contract for 256 episodes to help TBS launch a new lineup of prime-time animation. This puts the broadcast season count one more than previously announced that should last until 2018.[3]