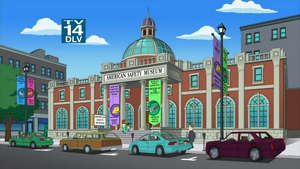 The American Safety Museum is Stan and Francine's idea of a good time when Roger nags them to do something adventurous in "Vision: Impossible".
After getting discount coupons in the paper, the family spends the day at the museum despite Roger's vision of the future that havoc awaits at the museum. Their day is interrupted when Helen, a disgruntled former docent arrives to shoot up the place and sets the museum on fire. With most of the equipment props and no real safety precautions taken at the museum, Roger directs them in the right course of action and they escape the carnage.
Ad blocker interference detected!
Wikia is a free-to-use site that makes money from advertising. We have a modified experience for viewers using ad blockers

Wikia is not accessible if you've made further modifications. Remove the custom ad blocker rule(s) and the page will load as expected.