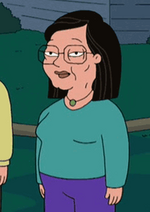 Amy Marie Hill (born May 9, 1953) is an American actress. She is perhaps best known for her roles in That's So Raven, The Cat in the Hat, 50 First Dates, Next Friday, All-American Girl, The Life and Times of Juniper Lee and Enlightened.
Amy provides the voice of Mah Mah Ling.
Ad blocker interference detected!
Wikia is a free-to-use site that makes money from advertising. We have a modified experience for viewers using ad blockers

Wikia is not accessible if you've made further modifications. Remove the custom ad blocker rule(s) and the page will load as expected.