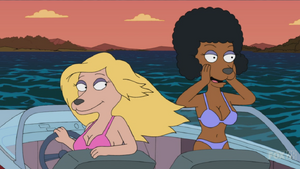 Andrea Louise Martin (born January 15, 1947) is an American and Canadian actress and comedienne. She has appeared in films such as My Big Fat Greek Wedding, on stage in productions such as My Favorite Year, Fiddler on the Roof and 'Candide, and in the television series, SCTV.
She provides assorted voices including Penny in "Stan's Best Friend".
Ad blocker interference detected!
Wikia is a free-to-use site that makes money from advertising. We have a modified experience for viewers using ad blockers

Wikia is not accessible if you've made further modifications. Remove the custom ad blocker rule(s) and the page will load as expected.