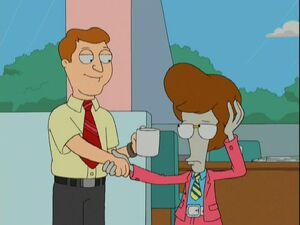 Paul Andrew "Andy" Richter is an American actor, writer, comedian, and announcer. He is best known for his sidekick role on Late Night with Conan O'Brien between 1993 and 2000. He is also known for his work with the Madagascar films and for the sitcoms Quintuplets, Andy Richter Controls the Universe, and Andy Barker, P.I.. Richter returned to O'Brien's side as the announcer on The Tonight Show with Conan O'Brien, which began airing on June 1, 2009 and ended airing on January 22, 2010.
Andy provides assorted voices, including Phillip in "Rough Trade".
Ad blocker interference detected!
Wikia is a free-to-use site that makes money from advertising. We have a modified experience for viewers using ad blockers

Wikia is not accessible if you've made further modifications. Remove the custom ad blocker rule(s) and the page will load as expected.