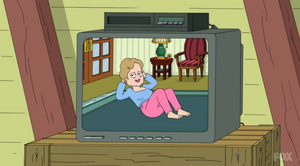 Angela Brigid Lansbury, CBE (born 16 October 1925) is an English actress and singer whose career has spanned seven decades. Her first film appearance was in Gaslight (1944) as a conniving maid, for which she received an Academy Award nomination. Among her other films are The Manchurian Candidate (1962), Bedknobs and Broomsticks (1971) and Beauty and the Beast (1991).
Roger tells Stan that some of his wigs are on tour with Angela in "Chimdale" when Stan tries to hide his bald head.
Roger works out to her aerobics tape in "White Rice" when he admits he has the body of a post-menopausal senior woman.