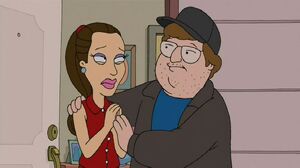 Angelina Jolie (born Angelina Jolie Voight) is an American actress. She has received three Golden Globe Awards, two Screen Actors Guild Awards and an Academy Award. Her notable roles include Wanted, Mr and Mrs Smith, Salt and Lara Croft: Tomb Raider.
She appears in a Michael Moore film in "Stan of Arabia: Part 1". God later uses her form to talk to Steve in "Stan of Arabia: Part 2".
She appears as one of the celebrity robots and on the cover of a magazine about celebrities adopting babies in "Tearjerker". The same Us Weekly magazine has become a running gag on the show.
Stan describes Roger as a combination of "Mary, Queen of Scots, Brangelina and Jesus" in "Weiner of Our Discontent", referencing her marriage to actor Brad Pitt.
Angelina is voiced by Odile Corso.
Ad blocker interference detected!
Wikia is a free-to-use site that makes money from advertising. We have a modified experience for viewers using ad blockers

Wikia is not accessible if you've made further modifications. Remove the custom ad blocker rule(s) and the page will load as expected.