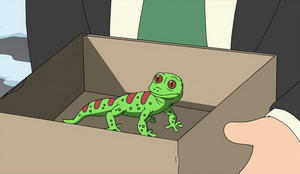 Angelo is the winner of the CIA mascot election held in "Father's Daze".
Stan misses six months from work in an attempt to have the perfect Father's Day by constantly erasing his family's memories, but Klaus breaks his memory device in order to reveal the truth and Stan and the family agree to go to CIA Headquarters to get a spare one. Dick appears holding Angelo's box, and informs Stan that he won a tight contest with Gretchen, the Guinea pig.
Ad blocker interference detected!
Wikia is a free-to-use site that makes money from advertising. We have a modified experience for viewers using ad blockers

Wikia is not accessible if you've made further modifications. Remove the custom ad blocker rule(s) and the page will load as expected.