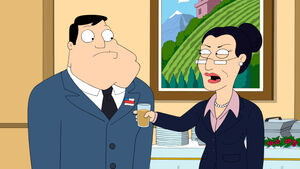 Anjelica Huston (born July 8, 1951) is an American actress. Huston became the third generation of her family to win an Academy Award, for her performance in 1985's Prizzi's Honor, joining her father, director John Huston, and grandfather, actor Walter Huston. She later was nominated in 1989 and 1990 for her acting in Enemies, a Love Story and The Grifters respectively. Among her roles, she starred as the Grand High Witch in The Witches (1990) and as Morticia Addams in The Addams Family (1991) and Addams Family Values (1993), receiving Golden Globe nominations for both.
Anjelica Huston provides the voice of school superintendent Ellen Riggs.
Ad blocker interference detected!
Wikia is a free-to-use site that makes money from advertising. We have a modified experience for viewers using ad blockers

Wikia is not accessible if you've made further modifications. Remove the custom ad blocker rule(s) and the page will load as expected.