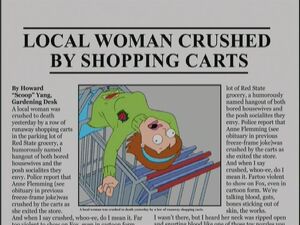 Anne Flemming was a former member of the Ladybugs. She is killed in "Not Particularly Desperate Housewives" by what is ruled to be an accident caused by runaway shopping carts but she is really murdered for wanting to leave the group. Francine takes her dog Fussy home where it is adopted by Stan.
Marguerite glances at a newspaper clipping of Anne's death while investigating the hot tub in "Hot Water".
Ad blocker interference detected!
Wikia is a free-to-use site that makes money from advertising. We have a modified experience for viewers using ad blockers

Wikia is not accessible if you've made further modifications. Remove the custom ad blocker rule(s) and the page will load as expected.