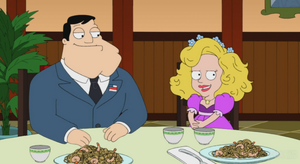 Ashley is the flower girl Stan Smith picks out for the wedding of Principal Lewis and school superintendent Ellen Riggs in "The Worst Stan". When Ellen questions the choice, believing her niece was supposed to be the flower girl, Stan points out that Ashley won a regional beauty contest and is much cuter. Stan has Principal Lewis go off to dance with Ashley so he can have a private conversation with Ellen, when Lewis returns, Stan wonders where Ashely is. Lewis says that she is off doing the splits for people for cigarettes.
Ad blocker interference detected!
Wikia is a free-to-use site that makes money from advertising. We have a modified experience for viewers using ad blockers

Wikia is not accessible if you've made further modifications. Remove the custom ad blocker rule(s) and the page will load as expected.