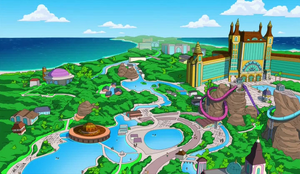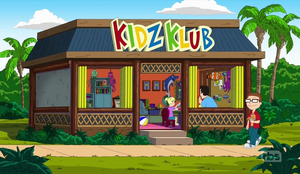 Atlantis Paradise Island is an ocean-themed resort on Paradise Island in the Bahamas. It features a variety of accommodations built around Aquaventure, a 141-acre waterscape, which includes fresh and saltwater lagoons, pools, marine habitats, and water slides and river rides.
Hayley and Jeff travel to Atlantis in an effort to conceive a child in "Bahama Mama", but when Stan finds out, he brings along the rest of the family in his effort to stop them. Steve and Klaus reject a pitch by Mark to join the Kidz Club, but when they wander off property, they are promptly kidnapped by a drug gang. Meanwhile, Francine goes on a drinking binge.
Stan exhausts himself in efforts to keep Hayley and Jeff from being intimate, including removing panels from the Aquaventure aquarium. After a miscommunication with the villain of the resort's water show who sets out to kill Jeff for Stan, series of mishaps leave him hard of hearing and appearing elderly. He manages to annoy a group of children playing in the pool who turn on him. Roger, fantasizing about being a lifeguard after watching Baywatch, leaps in to save him, but plants himself face-first in inches of water, bringing his lifeguard dreams to a halt. Stan sees that Jeff is about to be killed and sends the children after the "villain," where he is dragged off into the bushes.
Ad blocker interference detected!
Wikia is a free-to-use site that makes money from advertising. We have a modified experience for viewers using ad blockers

Wikia is not accessible if you've made further modifications. Remove the custom ad blocker rule(s) and the page will load as expected.