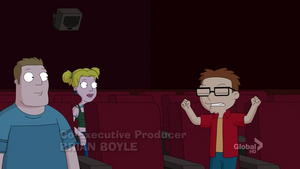 "Baby Come Back" is a song by 1970s group Player from their self-titled second album of the same name. It was written by lead singer Peter Beckett and J.C. Crowley. The song was their biggest single, hitting number one on the Billboard Hot 100 and number 10 on the soul charts, in 1978. It was the breakthrough single for the band, gaining them mainstream success, and the only number-one hit of their career.
In "The Unbrave One", when Stan gets into an altercation at a movie theater, he asks Steve if he has his back in a fight. As Stan goes off to fight, Steve goes into a riff a phrases containing the word "back" which eventually causes him to start singing "Baby, come Back".
Lyrics
Stan: You got my back?
Steve: I'll scratch your back. I can do the backstroke. I can sing "Baby, Come Back".
Baby come back, ahh...
Any kind of fool could see
There was something in everything about you...yeah
(As Steve continues to sing, Stan starts to fight and becomes overmatched.)
Baby come back, you can blame it all on me
Stan: Steve! Help! I wrote a few checks with my mouth bud, need you to help me cash them.
Steve: I was wrong, and I just can't live without you