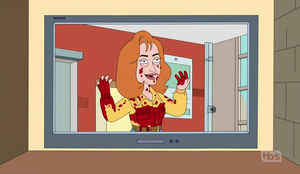 Stan: Ah, Saturday afternoon TV. Where the sneaky networks hide all the good shows. [changes channel] A guy with question marks on his suit yelling tax secrets at me. [changes channel] Rick Steves' Glory Hole in Europe. [changes channel] And of course, the secret final episode of Caroline in the City.
[Cut to Caroline carrying an axe covered in blood with a crazed look on her face looking at her other cast members brutally killed]
Caroline: Now the city is mine!
[Stan laughs]
Stan: Still holds up!
---
Roger: Well suck me off through a hole and call me Rick Steves, what is this?
Steve: It's Baywatch. You've never seen Baywatch?
Francine: You like this, Roger?
Roger: Franny, I like the smell of gasoline. I like to play with Stan's ding-a-ling while he sleeps. This... this I love!
---
Roger: Get help... you nutsacks.
Ad blocker interference detected!
Wikia is a free-to-use site that makes money from advertising. We have a modified experience for viewers using ad blockers

Wikia is not accessible if you've made further modifications. Remove the custom ad blocker rule(s) and the page will load as expected.