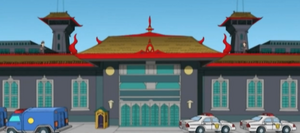 The Bang Kwang Prison is a men's prison in Nonthaburi Province, Thailand, located at the Chao Phraya River about 7 miles north of Bangkok.
According to Stan, no one has ever made it out alive. In "Great Space Roaster", Roger is placed by Stan in Bang Kwang. His prison cell is placed deep underwater and surrounded by mines. However, Roger eventually escapes by killing two dozen guards and making a raft out of their bodies.
Ad blocker interference detected!
Wikia is a free-to-use site that makes money from advertising. We have a modified experience for viewers using ad blockers

Wikia is not accessible if you've made further modifications. Remove the custom ad blocker rule(s) and the page will load as expected.