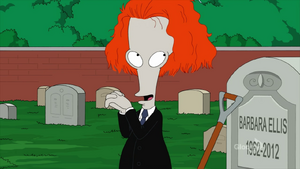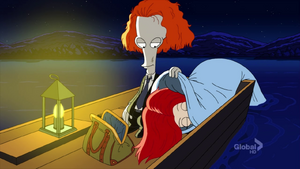 Barbara Ellis (1962-2012) was an ex-wife of Roger's who passes away in "Old Stan in the Mountain". When Roger visits his ex at Johnston's Funeral Home in Louisville with Francine on their way to what Francine believed was a dance contest, Roger gets the cold shoulder from the family for leaving her when she was terminally ill. When her son Vincent tells Roger he hates him, Roger simply asks how his online college is going. After the funeral, Roger reveals another secret that he needs Francine's help in digging up the body to bury his Barbara in a lake. At the lake, Roger reveals he lied again in order to shave the corpse for her red hair for a new wig.
Ad blocker interference detected!
Wikia is a free-to-use site that makes money from advertising. We have a modified experience for viewers using ad blockers

Wikia is not accessible if you've made further modifications. Remove the custom ad blocker rule(s) and the page will load as expected.