Barry Robinson
Talk

1
2,551pages on
this wiki
Barry Robinson
Biographical Information
Name
Barry Robinson
Nickname(s)
None
Last Recorded Age
13-14
Family
 :

Unnamed Mother
Unnamed Father
Unnamed Uncle

Occupation
Student
Voice actor
Eddie Kaye Thomas

Craig Ferguson - As 'Evil' Barry
Barry Robinson is an obese, clinically insane, and chemically retarded child of about 13 or 14.
Family
Barry's family have not been seen in an episode but have been referred to negatively. It is said by Barry on a number of occasions that they do not care about him as they left him alone as a baby, beat him, forget he's their son and even that they have a son, and that his mom uses marijuana. It is mentioned in "Daddy Queerest" that he has a sister although it is unknown if she shares her brothers insanity.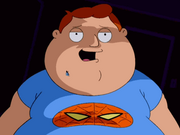 Personality
Barry is really a crazed criminal genius who talks like Gary Oldman in a soothing voice described as 'sweet and terrible like a madman's lullaby.' as revealed in the episode "With Friends Like Steve's". However, with his "vitamins", he is unbelievably dumb, making incredibly stupid, or sometimes just naive comments. Barry mentions he has several health problems, such as high cholesterol, diabetes, and obesity.
Normally he takes drugs that retard his criminal mind, as a result Barry is naive and slow as well as trying to make moral choices. For instance, when he remarks to Steve that he should respect her privacy when Steve tells of him overhearing Francine talking in "All About Steve". Barry can sometimes be reasonably nice. When on his drugs he takes Stan's insults with rather good humor or completely ignores them. In "Don't Look a Smith Horse in the Mouth" he is shown to be able to recognize insults. When Steve insults Snot, Barry raises an eyebrow and gives a sarcastic "Ouch".
Barry's insanity can be explained by his family life; Barry's parents have an S&M sex life Barry mentions in "Finances With Wolves, his uncle made him be in several secret basement movies as a child until he got too old in "May the Best Stan Win", indicating Barry was forced to, or since he is apparently sad that he had to stop, more like coerced to, be in Child Pornography, either with other kids, adults, or even his uncle, and he says that his parents don't care in "With Friends Like Steve's", then says in a depressed tone, "They never care".
Also, despite the drugs, there are times when his evil side leaks through. When Toshi, Snot, and Barry were beating Steve in "When a Stan Loves a Woman", during the beating Barry for no apparent reason says "let's kill his parents next, let's kill them all!" In "Spring Break-Up" he gets excited at the idea of hitting one of the girls with a beer bottle. In "Home Wrecker", he lies to Principal Lewis about how many shots were fired by mobsters leading to a nasty bullet wound in the principal's arm. When the principal asked why he lied he says it was revenge for tipping his candy over at the start of the episode and then twists the wound adding to the pain. And in "You Debt Your Life", when Barry becomes the school public address announcer, he says a highly dark and disturbing speech into the microphone for the entire school to hear, before Principal Lewis takes over as announcer.
Hobbies and talents
When not drugged Barry is shown to be very good at manipulating people emotionally with either words or actions. For example when Steve tries to expose his evil side Barry begins to cry while possibly pretending to be his nice self saying he was hanging around Stan because he never had a good father. This disarms Steve who accepts a plate of food Barry made, one of Stan's commemorative plates thereby setting him up for later.
He is also shown in "With Friends Like Steve's" to eat bugs although it could have just been a way to freak Steve out.
Barry also has a great talent for math. In "Home Wrecker" Principal Lewis tried to take advantage of Barry's counting skill to cheat at blackjack. He is so good at it that he can even count bullets fired past him.
Barry proves to be a skilled wrestler in "The Wrestler", nearly beating Stan's state high school record for consecutive wins until Stan hires Roger to beat Barry and break the winning streak.
Quotes
"Eavesdropper!, you should respect her privacy"
(Barry sitting at announcement desk in school main office) "YOU FUCKING FUCKERS ARE GOING TO DO WHAT I SAY OR I WILL STICK MY GODDAMN BOOT SO FAR UP YOUR ASSHOLE YOU WILL RUE THE DAY YOU CRAWLED OUT FROM YOUR MOTHER'S TWAT! *crying* I made a swear"
"Time to take my vitamin"
"He's much bigger than you made him look in the dirt!"
"We're going faster than people."
"They're making puberty."
"I'm gonna kill her with a bottle!"
"My name is Barry!"
(After Steve tells him he's holding a door mat) Steve : "That's a doormat Barry". Barry: "Who's Matt Barry?"
"Not on Strawberry Saturday!"
"Mine is a hat."
(Laughs manically while Steve is under the bed and then a fart breaks the tension) "That should be with you momentarily"
"O Seven hundred? How about OOOOO-K!"
Its the ghost of Whiskers! "I'm sorry, Whiskers! I didn't know you couldn't breathe underwater!"
"Puppies can't fly! At least mine couldn't..."
"You like that don't you bitch? What? That's what my mom said to my dad."
"Hire a man to kill an abortion doctor...I mean...buy video games and bubble gum."
"Never touch a fat boy's candy."
"If people can get past can they get future."
"So just shut your skinny mouth, get on the bottom bunk and go to sleep!"
"Uh oh, looks like I'm going to have a bad hairday"
"I like to suck on Hayley's toothbrush, It's minty and some times I find bits of food in it"
"Never touch a fat boy's candy"
"Shutup Nerd!"
(To Miss Piggy ghost in a tree)" Not now my lady, tis not my time yet."
"Let's kill his parents next, let's kill them all!"
"Rothaga!"
"Her eyes said why?!?!"
"There's a person inside Big Bird!"
"She tastes like a ball gag!"
"I would rather be in one of my uncles secret basement movies, but I got too old"
Notes
Barry loves Miss Piggy from the Muppets.
Barry appeared in the Family Guy episode "Killer Queen" as one of the campers of fat camp.
Appearances