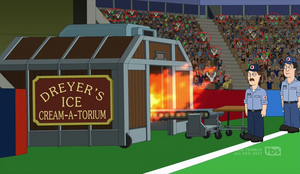 Many of the background characters in the arena scenes are recycled numerous times.
Ads for "Cougar Boost" from "When a Stan Loves a Woman" and "Beer Water" from "News Glance With Genevieve Vavance" appear around the Bazooka Sharks arena.
The sound-alike music as the crowd chases Steve is intended to evoke "Ballroom Blitz" by Sweet.
"Hippy Hippy Shakes" by The Swinging Blue Jeans plays to help Johnny recover.
"Over And Over" by Hot Chip plays as Steve makes his basket.
The Wilhelm Scream makes another appearance when Mikeah rolls his opponent's boulder back over him.