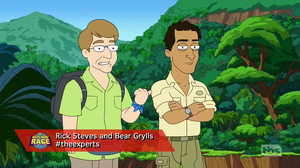 Edward Michael "Bear" Grylls (born 7 June 1974) is a British adventurer, writer and television presenter from Northern Ireland, known for his television series Man vs. Wild.
Performing as himself, Bear is teamed up with travel expert Rick Steves in "The Bitchin' Race". After having won all of the challenges to date, they take an early lead headed for Thailand. Stan invokes a temporary partnership, which results in them being shipped off to Antarctica in an animal crate.
Ad blocker interference detected!
Wikia is a free-to-use site that makes money from advertising. We have a modified experience for viewers using ad blockers

Wikia is not accessible if you've made further modifications. Remove the custom ad blocker rule(s) and the page will load as expected.