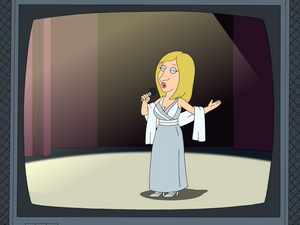 Because You Loved Me is a song originally performed by Celene Dion. Barbra Streisand sings it as part of a pay-per-view concert in "In Country...Club".
Lyrics
You were my strength when I was weak
You were my voice when I couldn't speak
You were my ...(Roger trips out)
Ad blocker interference detected!
Wikia is a free-to-use site that makes money from advertising. We have a modified experience for viewers using ad blockers

Wikia is not accessible if you've made further modifications. Remove the custom ad blocker rule(s) and the page will load as expected.