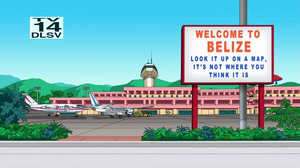 Belize is a nation-state on the eastern coast of Central America, bordered on the north by Mexico, on the south and west by Guatemala, and on the east by the Caribbean Sea.
In "My Affair Lady", right after Hayley is hired at BICI., the office manager Mr. Brenner announces an all-expenses paid company retreat to Belize to recharge the employees and recapture their recently lost top ranking. Hayley considers having an affair with a co-worker, Ax Jenkins, but dismisses the idea after discovering that he is married. Pushed by Roger when he arrives as their hotel, the Sea Breeze in Belize, she wavers between going though with the affair or not until she discovers the reason for pressure from Roger is that his persona of "Roslyn" is married to AX and stands to receive a large settlement if he cheats on "her." On the flight back home, Mr. Brenner announces that in retrospect, spending the money was a poor idea and to recoup some of the cost, fires half of the employees, including Hayley.
Ad blocker interference detected!
Wikia is a free-to-use site that makes money from advertising. We have a modified experience for viewers using ad blockers

Wikia is not accessible if you've made further modifications. Remove the custom ad blocker rule(s) and the page will load as expected.