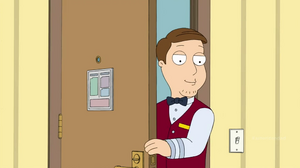 Benji is the bellhop at the hotel Klaus stays at while attending a motivational speaker conference in "Poltergasm". At Klaus' request, he places the "Do Not Disturb" sign on the door, but when Klaus huts his back and becomes trapped in his bowl watching the hotel information channel for days, he becomes trapped without the maids entering his room and screams for Benji in frustration.

Benji is voiced by T.J. Miller.
Ad blocker interference detected!
Wikia is a free-to-use site that makes money from advertising. We have a modified experience for viewers using ad blockers

Wikia is not accessible if you've made further modifications. Remove the custom ad blocker rule(s) and the page will load as expected.