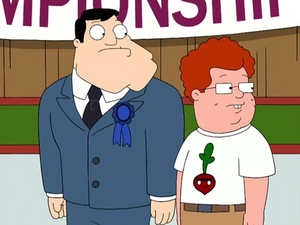 Benny is the supervising host of the Beetman video game regional championships held at Pizza Overlord in "Stan Time". When he awards Stan for winning the competition, his mother yells for him to hurry up so they can pick up his brother.
Benny is voiced by Devon Werkheiser.
Ad blocker interference detected!
Wikia is a free-to-use site that makes money from advertising. We have a modified experience for viewers using ad blockers

Wikia is not accessible if you've made further modifications. Remove the custom ad blocker rule(s) and the page will load as expected.