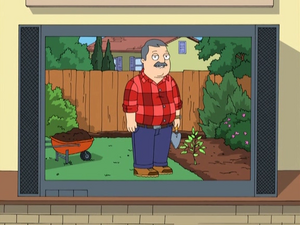 Bernie is the Canadian host of a lawn-care show that Stan and Francine watch in "Stan's Night Out". Bernie demonstrates starting a lawnmower in just one try by sitting on it. When Stan makes a bet with crimelord Fernando Jaramillo that he can start a lawnmower ten times with a single pull in order to save some people that the guys have stashed in the trunk of Dick Reynolds' car, the trick doesn't work. Stan is fortunately rescued by his mouse, Cheesers but later phones in threats to Bernie.
Bernie is voiced by Steve Landesberg.
Ad blocker interference detected!
Wikia is a free-to-use site that makes money from advertising. We have a modified experience for viewers using ad blockers

Wikia is not accessible if you've made further modifications. Remove the custom ad blocker rule(s) and the page will load as expected.