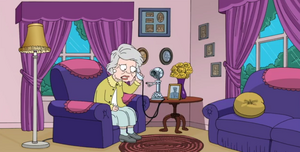 Beverly Billingsley is the person that CCS Enterprises connects Steve to when he waits two weeks on hold to try to return a defective cotton candy shooter in "Stanny-Boy and Frantastic".
When Roger and Steve see an advertisement on television for a cotton-candy shooter and order one with a credit card stolen from Greg Corbin. Klaus is excited to be in on the action but is rudely dismissed by Roger and Steve. When the shooter turns out to be a dud, Klaus convinces them to stand up to the company and demand a refund. Despite finding out the hold wait time is two weeks, Klaus pushes them into waiting it out. When they finally get through, they are directed to Beverly Billingsley instead of billing. Frustrated, Steve yells for her to go fuck herself. Despite Beverly's confusion as to everyone who calls her telling her to do that, she says to herself that she isn't one to disappoint her fans, and then sticks the phone receiver in her vagina even while Steve continues to talk.
Beverly Billingsley is voiced by Elmarie Wendel.
Ad blocker interference detected!
Wikia is a free-to-use site that makes money from advertising. We have a modified experience for viewers using ad blockers

Wikia is not accessible if you've made further modifications. Remove the custom ad blocker rule(s) and the page will load as expected.