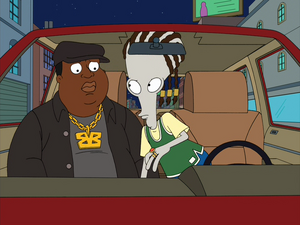 Christopher George Latore Wallace (May 21, 1972 – March 9, 1997), better known by his stage names The Notorious B.I.G., Biggie or Biggie Smalls, was an American rapper.
On March 9, 1997, a black Chevrolet Impala SS pulled up alongside Wallace's SUV in Los Angeles. The driver of the Impala drew a 9 mm blue-steel pistol and fired at the GMC Suburban with four bullets striking Wallace. Wallace was rushed him to Cedars-Sinai Medical Center, but he was pronounced dead at 1:15 a.m.
In "Brains, Brains and Automobiles", Stan observes a memory of Biggie's assassination while traveling through Roger's subconscious. Roger's persona of MC Raw G gets upset at being cut off in traffic while driving Biggie, who tries to get him to relax. He pulls alongside and berates the other driver, who opens fire, striking Biggie. Roger steals Biggie's bling necklace and takes off as Stan looks at the same necklace which Roger gave to him, claiming he made it for Stan personally.
Smalls is voiced by Scott Lawrence.
Ad blocker interference detected!
Wikia is a free-to-use site that makes money from advertising. We have a modified experience for viewers using ad blockers

Wikia is not accessible if you've made further modifications. Remove the custom ad blocker rule(s) and the page will load as expected.