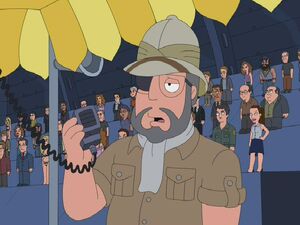 William Henry "Bill" Cosby, Jr. (born July 12, 1937) is an American comedian, actor, author, television producer, musician and activist.
A veteran stand-up performer, Cosby in 1965 landed a starring role in the action series I Spy, becoming one of the first African-American performers to star as a main character in a scripted comedy or drama. He is also well known for creating Fat Albert and the Cosby Kids, a widely hailed animated series depicting a group of African-American youths growing up in a Philadelphia ghetto; and The Cosby Show, a 1980s situation comedy about an affluent African-American family living in Brooklyn.
Bill Cosby appears as one of the celebrity robots in "Tearjerker".
Ad blocker interference detected!
Wikia is a free-to-use site that makes money from advertising. We have a modified experience for viewers using ad blockers

Wikia is not accessible if you've made further modifications. Remove the custom ad blocker rule(s) and the page will load as expected.