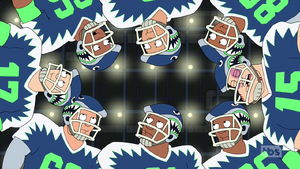 William Mark "Bill" Fagerbakke (born October 4, 1957) is an American actor and voice actor. He appeared on television in such roles as assistant coach "Dauber" Dybinski on Coach and for voicing Patrick Star on SpongeBob SquarePants.
Bill provides assorted voices, including the football player that can't believe the flea flicker play worked in "The Long Bomb".
Ad blocker interference detected!
Wikia is a free-to-use site that makes money from advertising. We have a modified experience for viewers using ad blockers

Wikia is not accessible if you've made further modifications. Remove the custom ad blocker rule(s) and the page will load as expected.