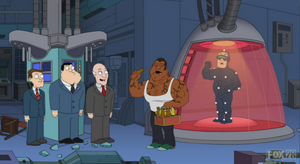 Black Dick is Dick Reynolds' CIA avatar.
In "Virtual In-Stanity", Deputy director Avery Bullock beats Dick in a poker game. Needing to work out some frustration, Dick uses his avatar to smash a pillar which confuses Stan Smith into thinking there is a race riot. Dick later uses Black Dick to purchase very small condoms and worries they may be too large.
Black Dick is voiced by Kevin Michael Richardson.
Ad blocker interference detected!
Wikia is a free-to-use site that makes money from advertising. We have a modified experience for viewers using ad blockers

Wikia is not accessible if you've made further modifications. Remove the custom ad blocker rule(s) and the page will load as expected.