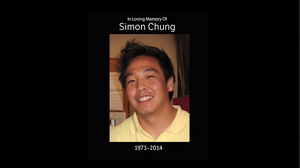 This is the first season to premier on TBS instead of FOX.
This episode is dedicated to storyboard revisionist Simon Chung who passed away in 2014.
This episode was originally created under the title "Blondes vs. Brunettes".
The first American Dad! episode to have separate writing credits for teleplay and story.
Following a premier at the New York Comic Con[1], this episode was also released to the public in advance of its broadcast premier via Twitter, Facebook and YouTube for 48 hours starting at midnight Monday morning on October 13th, 2014.[2]
In the episode synopses press release, it reported that Mike Barker was one of the writers of the episode, but his name doesn't appear as a writer.[3]
Francine wishes to shop at Duane Reade instead of Walgreens. Duane Reade is a subsidiary of the Walgreens company.
The security guard that stops Hayley, Francine and Roger on the yacht also appeared in "My Morning Straitjacket", unimpressed by Francine's breasts.
The song played at DÜSH is "Captress (Cates 98 Mix)" by Bee Sweet Garden.
Roger thinks blonde Hayley looked like Dolly Parton from behind, and even references Parton's song "9 to 5" upon seeing Hayley's face.