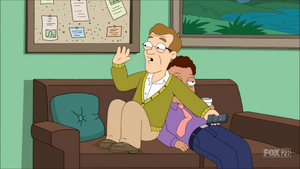 Bob Crawley was one of the teachers at Pearl Bailey High School.
In "A Ward Show", Bob complains about Steve Smith being friends with Principal Lewis while doing his accounting in the teacher's lounge. When Steve demands that they change the television channel, Bob complains but Principal Lewis threatens him with a hatchet. After Lewis is fired by Roger, Bob is among the teachers that beat up Steve. When Roger finds out, he gets revenge by killing the teachers involved by blowing up their cars. Seeing what happened to the first teachers, Bob tries to run but simply explodes.
Ad blocker interference detected!
Wikia is a free-to-use site that makes money from advertising. We have a modified experience for viewers using ad blockers

Wikia is not accessible if you've made further modifications. Remove the custom ad blocker rule(s) and the page will load as expected.