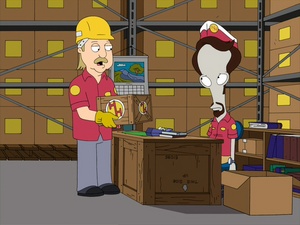 Robert John "Bob" Odenkirk (born October 22, 1962) is an American actor, comedian, writer, director and producer. He is best known for being the co-creator and co-star of the HBO sketch comedy series Mr. Show with Bob and David, Breaking Bad and its spinoff Better Call Saul, and for The Larry Sanders Show.
Bob provides assorted voices including the worker at Hotdog Hauss that brings Roger the toxic weiners "Weiner of Our Discontent".
Ad blocker interference detected!
Wikia is a free-to-use site that makes money from advertising. We have a modified experience for viewers using ad blockers

Wikia is not accessible if you've made further modifications. Remove the custom ad blocker rule(s) and the page will load as expected.