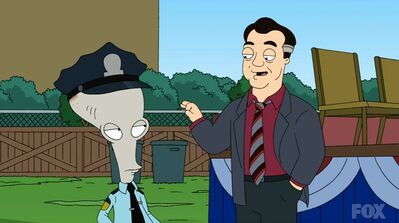 Robert M. "Bobby" Cannavale is an American actor noted for his role as Bobby Caffey on the critically acclaimed television series Third Watch. In 2002, he joined the cast of Ally McBeal for the last five episodes but the show was then canceled. Following this, he starred with Yancey Arias and Sheryl Lee in the miniseries Kingpin. In 2003, Cannavale briefly appeared on the last two episodes of Oz. From 2004 to 2006, he had a recurring guest role on Will & Grace as Vince D'Angelo, the first long-term boyfriend for Will, which earned him a Primetime Emmy Award. He has also appeared in the films Snakes on a Plane, The Guru, Shall We Dance? and Romance & Cigarettes.
Bobby Cannavale provided the voice of crooked cop Chaz Migliaccio in "Cops and Roger".
Ad blocker interference detected!
Wikia is a free-to-use site that makes money from advertising. We have a modified experience for viewers using ad blockers

Wikia is not accessible if you've made further modifications. Remove the custom ad blocker rule(s) and the page will load as expected.