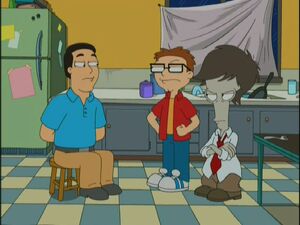 Bobby Lee is an Korean-American actor and comedian, notable for his membership in the recurring cast of comedians on the live comedy series MADtv. As the show's first cast member of Asian descent, he has played Asian and Asian American celebrities and political figures including Kim Jong-il and Connie Chung.
Bobby Lee provided the voice of Danny in "Bush Comes to Dinner".
Ad blocker interference detected!
Wikia is a free-to-use site that makes money from advertising. We have a modified experience for viewers using ad blockers

Wikia is not accessible if you've made further modifications. Remove the custom ad blocker rule(s) and the page will load as expected.